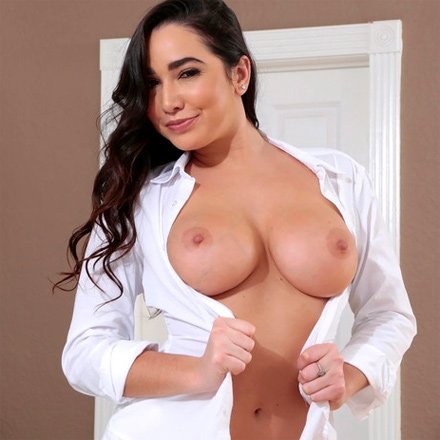 it's about time that Karlee Grey showed up at Big Naturals, this girl has an impressive pair of boobs and she loves to fuck, making her perfect! Check out the story about how she ends up getting her yummy tits covered in cum!
Karlee Grey was tutoring Brannon Rhodes. He was very distracted by her big naturals and his brain was wondering how to get their attention. He folded a paper plane and let it fly straight to the tits. Karlee realized that this guy would not focus so why waste time. She opened her blouse and put the tits right into his face. When she opened his pants she realized his dick was quite big. Maybe he could learn better if is she would suck it. Brannon returned the favor by licking her ass and pussy. She leaned over the glass table so he could bang her doggystyle. After a while something was pushing his dick out of the pussy. A giant waterfall of squirt. He put his dick back and kept driving her crazy until she squirted again. They continued fucking on the sofa in different positions until Karlee squirted one more time and Brannon came all over her tits.
I don't know about you, but I would love to cum all over Karlee Grey's big titties!